Helping Them Grow Up Healthy with Children's Therapy
At Dr. Messina & Associates, our children's therapy services offer a caring and confidential space where kids can express themselves, develop essential coping skills, and build a strong foundation for a healthy future. Every child deserves a chance to grow up happy and healthy.
Give Us a Call Today to Learn More.
Why Children's Counseling?
Children's counseling is a powerful tool for children facing emotional, behavioral, or developmental challenges. Our experienced counselors work closely with children and their families to address issues such as anxiety, ADHD, depression, school-related stress, and more. Through counseling, your child can gain the support and tools needed to thrive and succeed.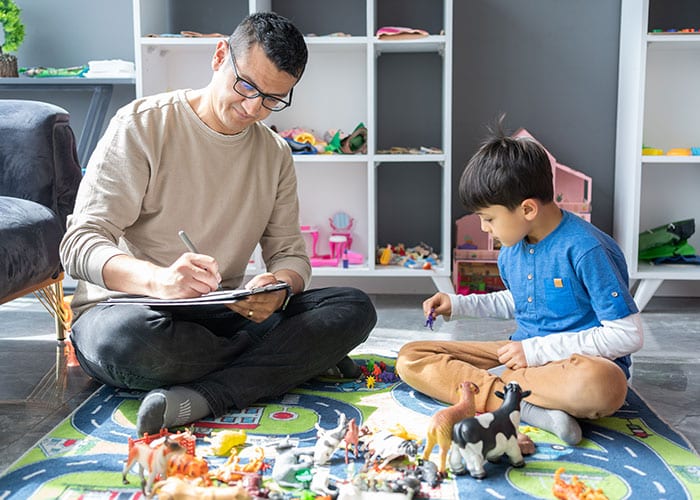 At Dr. Messina & Associates, our child counseling services focus on:
Emotional Well-being

Addressing emotional challenges specific to children, such as anxiety, depression, and stress.
Social Skills

Assisting children in developing effective communication and social skills to navigate relationships with peers, family, and adults.
Academic Support

Providing guidance in educational development, helping children build a strong foundation for their future.
Coping with Life Changes

Assisting children in navigating significant life transitions, such as changing schools or adjusting to new family dynamics.
Conflict Resolution

Equipping children with fundamental conflict resolution and problem-solving skills tailored to their age.
Psychological Testing

If needed, providing comprehensive testing to diagnose ADHD, other psychological issues, and learning challenges.
Medication Management

Our in-house healthcare team provides the necessary support for effective medication management if required.
Your Trusted Children's Therapists
Our compassionate team of therapists is dedicated to creating a safe and supportive space where teenagers can express themselves, seek guidance, and grow emotionally and mentally. Every teenager's journey is unique, and we tailor our counseling to address their specific needs and challenges.
If you're ready to support your teenager towards a happier and healthier life, we're here to help.
Ready to Take the Next Step?
Your teenager doesn't have to go through this stage all alone. Feel free to reach out and take the next step towards a brighter future.